How to Find Satisfying Work in a Topsy-Turvy World
What would life be like if you loved your job? That's the question coauthors Peter Paskill and Pam Gross address in their book (CareerMakers Press, $14.95).
"This book deserves a 6 STAR Amazon.com book rating" Paul Sybor
"For anyone who takes their lives and careers seriously this book is a 'must' read." Steve Watson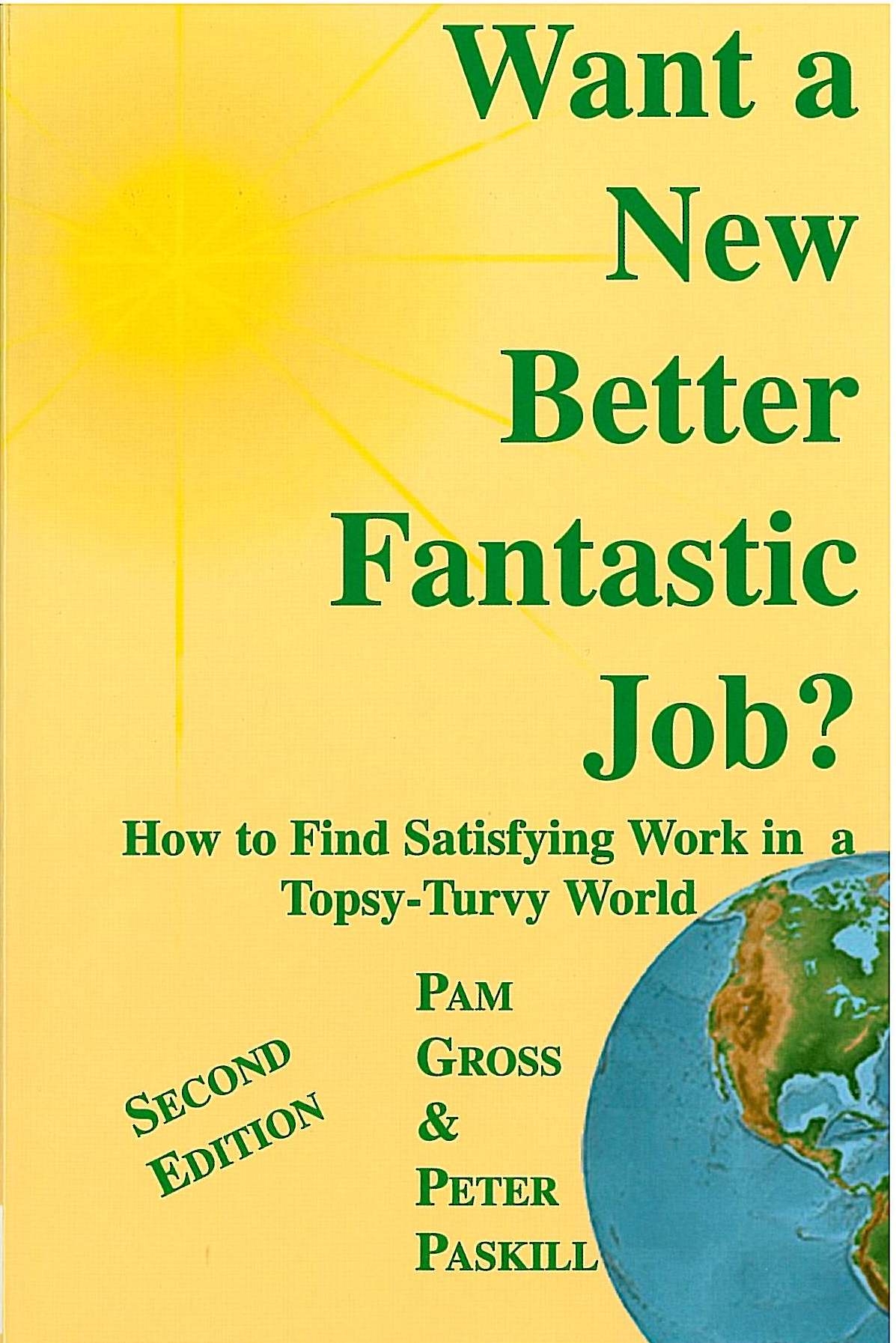 Work without meaning leaves you feeling devalued, angry, and depressed. Imagine, on the other hand, finding a job you're happy to go to each day, where your contributions are recognized, where your unique traits and skills are appreciated.
Dream-job gurus Paskill and Gross have been counseling job seekers for a quarter-century through their nationally recognized career-management firm CareerMakers. Boasting over 6,000 individual clients and nationally recognized companies such as Adidas, Intel, Nike, and Standard Insurance, they have distilled their famous services and programs into a valuable, hands-on manual with the tips, tricks, techniques, and exercises previously reserved for clients.
Job seekers can shave weeks or months off their job transition time by reading this book and working through its tried-and-true exercises. Paskill and Gross grab you by the hand and help you navigate through the lonely, scary path to finding a job that's worthy of you.
This book is for you if:
You're not sure what you really want to do or are new to the job market
You've been laid-off, downsized, or unemployed
You're in a job that is less than fulfilling and want to explore other options
You're retired but not ready to quit working forever
Want a New, Better, Fantastic Job? Shows you how to:
identify your authentic interests and real passions
assess your skills, strengths, and weaknesses
meet people who can help you
generate prize job interviews
custom-design your dream job—then get it
develop the skill of articulating
take control of your interview, and make a lasting and positive impression
write a sparkling and powerful resume that stands out from the crowd
As consumers, we know more about buying a car than we do about getting a job. That's why most job seekers go about searching for employment using the "old way" checking the Internet, want ads, newspapers, agencies, mailing a resume (or electronically posting one–an "old way" in disguise) hiring a headhunter or employment agency. The old way doesn't work.
Paskill and Gross's creative "New Way" of job seeking gets results.
Did you know:
Interviewers have more to lose than the person being interviewed.
Understand his or her psyche is the key to taking control of the interview.
People hire people they know; they don't hire resumes, application or emails. Learning to network, make contacts, and enlist people's help is the centerpiece of the New Way job search.
The best jobs are the ones you invent yourself. The New Way shows job seekers how to create their own, ideal job, and then get someone to hire them!
Once you construct a detailed picture of what makes you happy, opportunities will appear like magic. Using the New Way, job seekers have many more assets to flaunt and a bigger universe to pursue.
To purchase, please call us at 503-699-3192. We would be happy to mail the book to you for $14.95 plus $2.50 shipping and handling or stop by our office during business hours to pick up a copy.  You can also buy the book from Amazon.com.